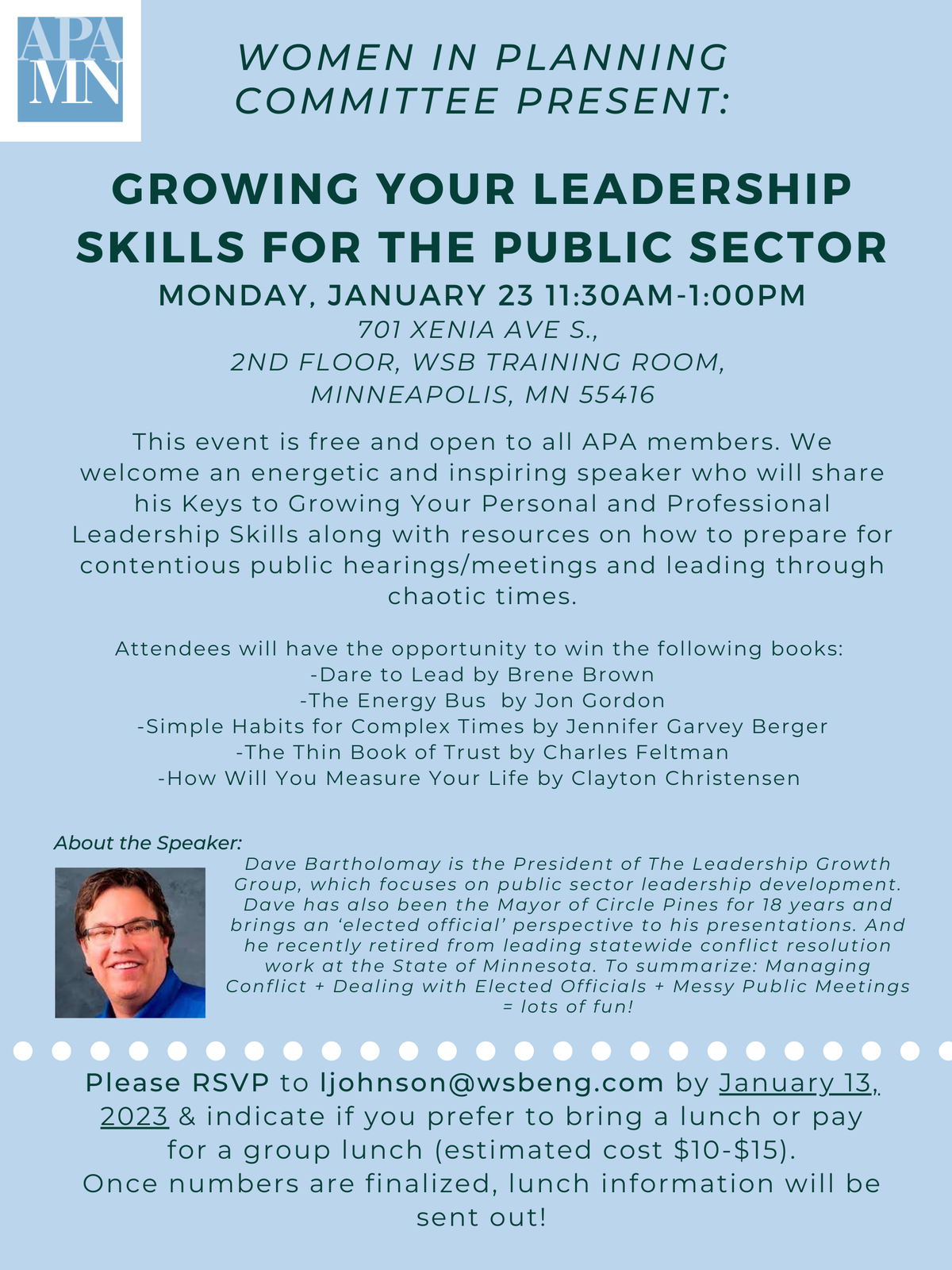 The Women in Planning Committee is excited to announce our first event of 2023: Growing Your Leadership Skills for the Public Sector.

Join us on January 23 11:30am-1:00pm at the WSB Offices (701 Xenia Ave S. Minneapolis, MN 55416). Dave Bartholmay, an experienced and energetic speaker, will share his keys for personal and professional leadership skills and resources for dealing with contentious public meetings.

In addition, several leadership books will be given away to participants! This event is free and open to all APA members.
Please RSVP to ljohnson@wsbeng.comby January 13, 2023 and indicate if you prefer to bring a lunch or pay for a group lunch (estimated cost $10-$15). Once numbers are finalized, we will send out lunch information.
Legislative and Law Virtual Lunch: Recording Available

More than 50 members joined the APA MN Legislative and Law Virtual Lunch, held on May 8, 2020. Thank you for your participation, comments, and questions during the event.
APA MN's Legislative and Law Liaison, Leslie Rosedahl from Rosedahl Public Affairs, provided updates and insight on legislative initiatives that have occurred during the COVID-19 pandemic.

We heard from Rep. Dean Urdahl, Ranking Member, House Capital Investment Division as well as Rep. Mike Freiberg, Chair, House Government Operations Committee.

View the recording here. Password: 6n?84=5c
CM Credits are available.
Spring Seminar
The mission of the Spring Seminar is to deliver an interesting, informative, and educational event to members for AICP Credit as a complement to the annual State Conference. Information on the 2020 spring seminar will be posted here when available. For more information, contact Spring Seminar Chair Patrick Boylan, AICP at 651-602-1438 or by email.

Lunch and Learn Seminars
APA Minnesota's Professional Development Committee is hosting a series of Lunch and Learn events throughout the year. In addition to providing valuable education, APA MN's Lunch and Learn Seminars are a terrific opportunity to get out of the office and visit with planning peers. BYOL (Bring Your Own Lunch). Remote participation is also available. Upcoming events will be posted here.

At this time, upcoming events will only be offered as a webinar. We will continue to evaluate future events to determine what format is appropriate.
Committee Networking and Education Events
Several APA Minnesota committees hold events at varying times throughout the year. These include:
Diversity and Equity Committee
Women in Planning Committee
Young Planners Group Mentor Program
For more information on these committees and their activities, see the Strategic Priorities and Committees section of the website.
Social Events
Social gatherings at Twins games, an annual holiday party, and other events will be posted here when they occur.